A little bit about us before you start to browse our fantastic selection of Wing back chairs. We are a family business based in the beautiful market town of Skipton, the gateway to the Dales, our shop is located on the High Street and we've been manufacturing chairs for over 30 years, supplying all different sectors of the industry. We started our journey supplying contract furniture and now we have moved our skills and expertise to the retail market.
One of the key benefits of purchasing a Wingback/Fireside chair from High Seat Chairs Made 4U, is we offer a bespoke service regarding seat heights and seat widths when required, because we are all different sizes and comfort matters.
Our goal is, Comfort, Quality and Affordability for Everyone!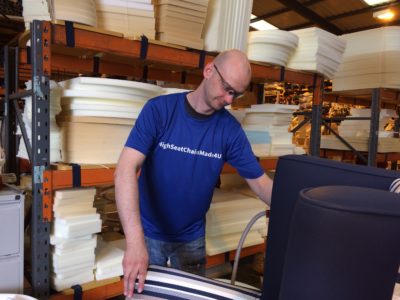 How To Order
You can either place an order on line or over the telephone or even in store.
We are more than happy to talk you through our High Seat Chair Range and products to help assist and advise you with any queries \ questions.
All orders placed will be confirmed by one of our sales team by email.
All chairs made to order are usually delivered within 4 to 5 weeks from placing the order
If there is going to be any delays with our usual lead time, we will call you to advise and try to give an accurate delivery date.
All Sale chairs can usually be despatched within 10 working days for more information please contact our sales office.
Any seat height and seat widths and fabric choices will be noted on your confirmation of order
Please note seat heights and seat widths are made as close as possible to desired size please allow tolerance of 1 – 2 CM depending on fabrics used.
To make any changes or cancel your order please call our office 01756 792024
Payment For Your Chair
All orders placed on line need to be paid for in full
If you require to make a purchase paying a deposit first please call our office on
01756 792024
A deposit of £150.00 is required on all our chairs made to order the balance to be paid in full 2 days before dispatch.
You can pay by debit card or credit card or by bank transfer or cash in store only
We do not accept American Express
If you require to pay in full by cheque your purchase will be dispatched once the cheque has cleared. Please contact our sales team 01756 792024
Cooling Off Period
High seat chairs made 4 u offer a 72-hour cooling off period from the date of your order.
An order maybe cancelled with in this time and no cancellation fee will apply and all monies will be refunded in full.
10 YEAR Guarantee
All our frames carry a 10 YEAR guarantee
Storage
If the customer requires storage this can be arranged. The furniture must be paid for in full before any arrangements can be made there is no charge for this service.
Delivery
All our chairs and accessories will be delivered to your door only, usually on a 2 to 3-day service.
All chairs are checked and heavily wrapped including boxed,
We deliver to the United Kingdom mainland only excluding Northern Ireland, Ireland, Channel Islands and remote parts of Scotland including, Highlands and Islands.
Delivery Charges
Large Parcel delivery usually take 48 hours at a cost of £65.00 per large item – This is not a timed delivery service and arrangements for receiving the chair would need to be made by the customers
Additional costs might occur if you are purchasing multiple items.
Please contact High Seat Chairs Made 4 U 01756 792024
Customer Service
Here at High Seat Chairs Made 4 u we are passionate about all our products and work hard to provide the best customer service to all our customers whether you purchase on line or visit our shop you're guaranteed a professional knowledgeable friendly service. Our office hours are 10 am till 5pm, Monday, Wednesday, Thursday, Friday
Registered Office: Skipton Interiors & High seat Chairs Made 4 U
72 High Street, Skipton, North Yorkshire, BD23 1JJ
Telephone: 01756 792024
Distance Selling/Returns
Our returns policy means you can return your purchase to us in unused condition complete with original tags and in its original packaging with in the 14-day period including the day of the delivered item, this applies only to standard chairs placed by online, telephone or email. Orders considered to fall under the Information, Cancellation and Additional Charges (ICAC regulations), i.e. distance sales contracts, are subject to a 14-day return or exchange right. Where the 14th day falls on a Saturday, Sunday or Bank Holiday the final day shall be deemed to be the following working day. All items returned must be in a perfect condition and there will be a collection fee of £80 to return any goods to us.
We do everything possible to make sure you receive your purchase is in pristine condition if however, your item is damaged or faulty please contact our office 01756 792024
.
Refunds
In the unlikely event you receive your goods faulty or damaged you are entitled to a full refund or exchange up to 30 days from the date of receipt.
The Law
Whilst every care is taken to ensure the information in this publication is correct, no legal responsibility can be accepted for any inaccuracy. The company reserves the right to alter or modify the information contained herein at any time in light of technical or other developments.
The contract between us shall be governed by the laws of England and any dispute between us will be resolved exclusively in the courts of England. English is the only language offered for the conclusion of the contract.
The parties to the contract are High Seat Chairs Made 4 U/Skipton Interiors and you, the customer placing an order with us. You may not assign or sub-contract any of your rights or obligations under these terms and conditions or any related order for products to any third party.
If any portion of these terms and conditions is held by any competent authority to be invalid or unenforceable in whole or in part, the validity or enforceability of the other sections of these terms and conditions shall not be affected.